The Financial Suite allows you to manage payments between your school and your families/students. This includes invoicing, accepting payments, viewing payment status, processing transaction batches and more.
Important Note: To access your school's Financial Suite, you must be either be designated a Super Admin or have been granted "View and Edit" permissions for Financial Permissions. If neither of these apply to you, you must contact someone in your school with Super Admin privileges.
The Financial Suite is access through the Financial Page as seen below and has several subpages which you can navigate to using the left-navigation bar: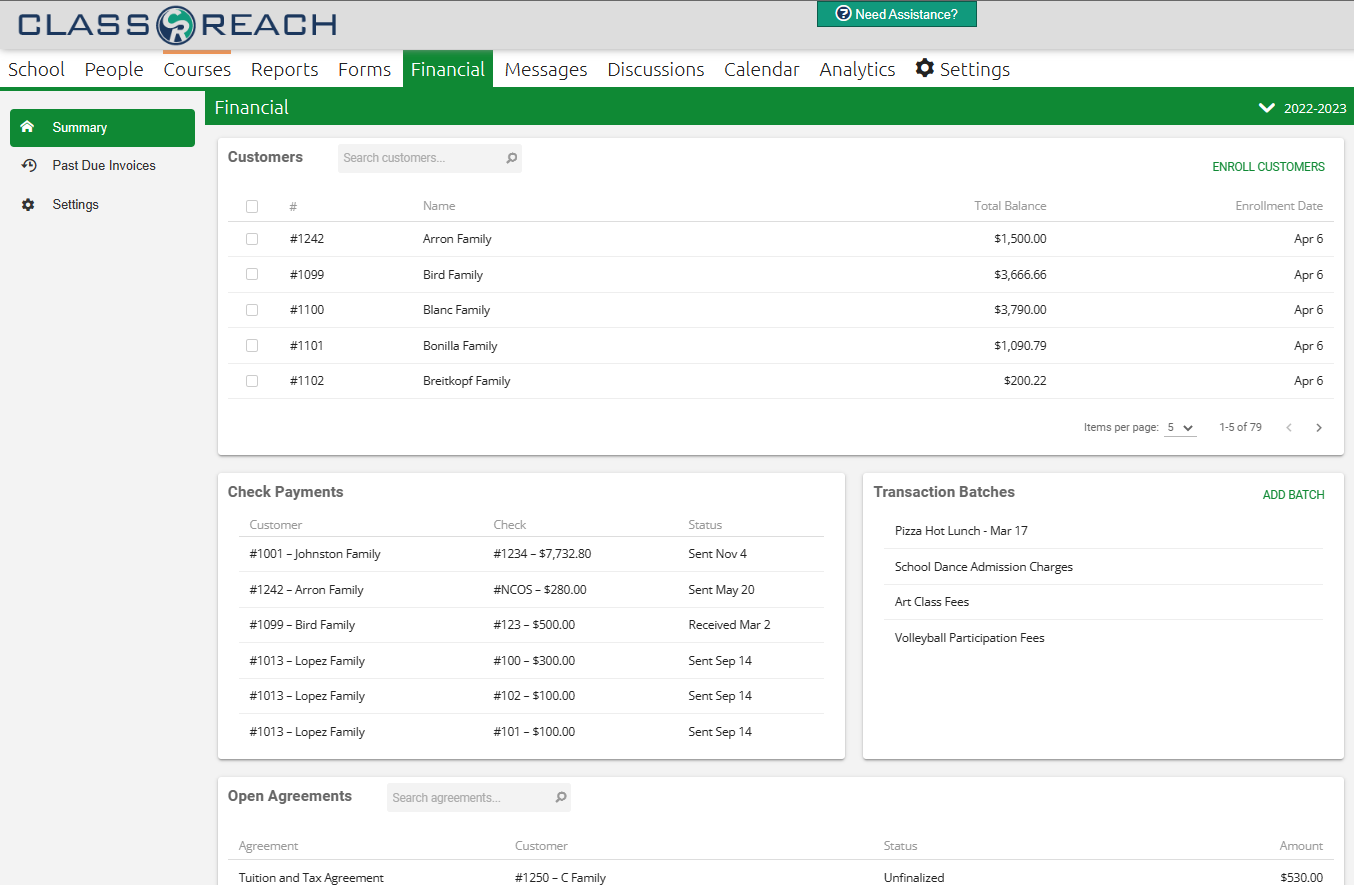 There are several important features on each page, and we've created more detailed articles for each page:
One important aspect which applies to all pages of the financial suite is the School Year drop-down in the upper right of every page. Be sure to select the appropriate school year when viewing or editing any information on that page!


Financial Suite Terms and Features:
Enrollment - This term can be confusing because enrollment can also be used in different contexts such as enrolling a student in a school year or enrolling a student in a course/section.
When enrollment is used in the Financial Suite- it refers to one of two things
1) Enrolling a family/student in a financial year. All charges for a particular school year will be applied to a specific financial year. Learn more about enrolling customers in this article: Financial Suite - Enrolling Customers
2) Family/Student enrolling in a payment plan.
Payment Processor - This is a third-party company who ClassReach has integrated with to provide payment processing services for your school. Today, we have a single payment processing option, and that is Stripe. This integration enables Credit Card and ACH payment processing. Learn more here: Stripe - Payment Processing Integration
Payment Plans - Part of managing payments for your school involves offering payment plans for your customers to choose from that meet the needs of your school and offer flexibility for your families. Payment plans can be set up for each Financial Account (in Financial Settings) and once set up, can be used in Financial Agreements, Forms with Payments, etc.) This topic is covered in more detail in the Financial Settings Page.
Invoicing - Invoices are generated to notify a customer of a payment due for goods and services and can be initiated from several places such as Financial Agreements, adding a charge, forms with payments, etc.
Related Documentation:
VIDEO : Financial Suite Overview (8 min)
VIDEO : Adding Accounts to ClassReach Financial Settings (13 min)
Financial Suite - Enrolling Customers
Stripe - Payment Processing Integration