This article walks you through setting up a Financial Agreement
A Financial Agreement Process allows your school to set up rules for tuition calculation. This includes varying fees and discounts.
Setting up your financial rules is a permissions based task. If you do not see some of the options discussed, please contact the lead admin for your school and ensure you have the proper permissions set.
If you have ANY questions at all, please reach out to support@classreach.com for assistance.
Key Notes
You must have your Accounts and Categories already set before you are able to create rules for your Financial Agreement Process.
If you would like to create fees or discounts based on User or Family information, you will need to ensure that the information is held within the User or Family Info Form. For example, if you would like to offer a discount for military or staff members, you will need to have a field within the User or Family Info Form with that designation.
We recommend entering all of your rules before handling individual agreements. You will be able to manually edit an individual agreement after it has been calculated. However once an agreement has been manually edited or "finalized" it will no longer auto calculate based on the rules.
After creating all of the Financial Agreement Process rules, you will then need to publish Financial Agreements for your families.


Creating a Financial Agreement Process
Login to your ClassReach Admin account.
Navigate to your Financials page.
Click on Settings on the left hand side bar.
Look to the bottom of the page for the Financial Agreement Processes section.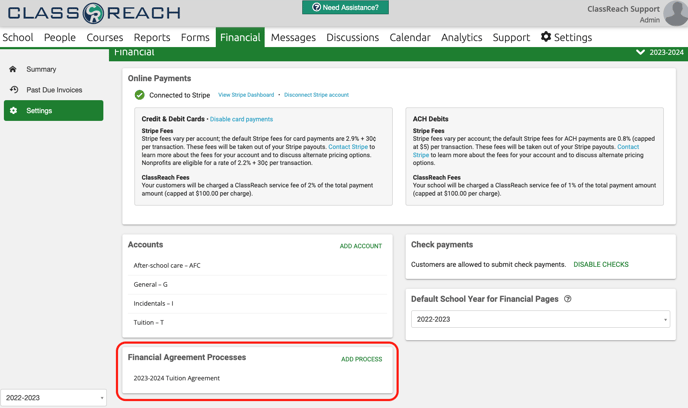 Select ADD PROCESS (upper right corner of the section)


You will see "New Financial Agreement Process" in a pop-up window.
Fill in the following fields: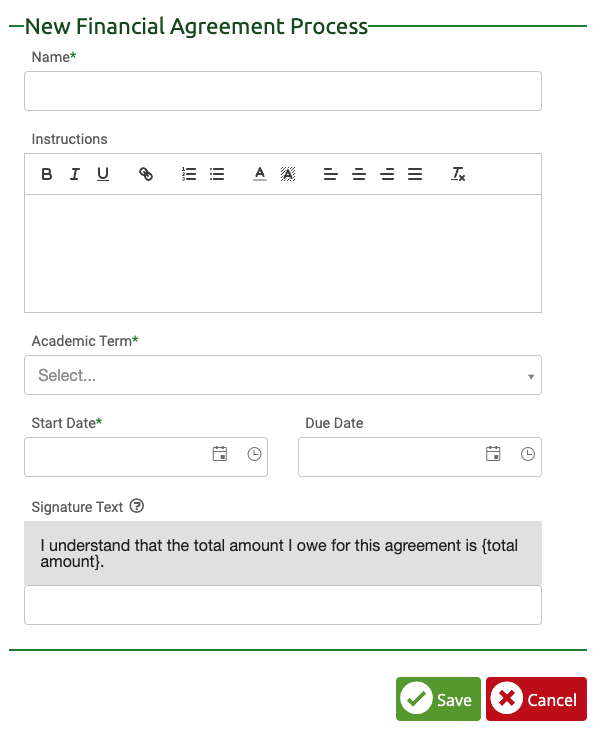 Name: Appears at the top of the agreement for your customers.
Academic Term: The term the system uses to calculate the totals and create the agreements.
Start Date: The date the system begins notifying users there is a financial agreement for them to complete.
Due Date: The date the signed Financial Agreement is due.
Instructions: Instructions for admins within the system (for internal use).
Signature Text: You may add text to the end of the default signature text which is "I understand that the total amount I owe for this agreement is (Total of Agreement)"

Save the window.


Upon saving, you will see the dashboard for setting up your Financial Agreement Process and its rules.
Complete the Fee Rules.
Complete the Discount Rules.
Add any admins you would like to view and edit this agreement as well as receive notifications.
Note: Only admins with the proper permissions will be able to view/edit the agreement, regardless if they are added as admins.