This document walks you through creating your first report.
This is a "how to" of a simple report. If you are looking for something more advanced, please click on Filtering Reports Like a Pro.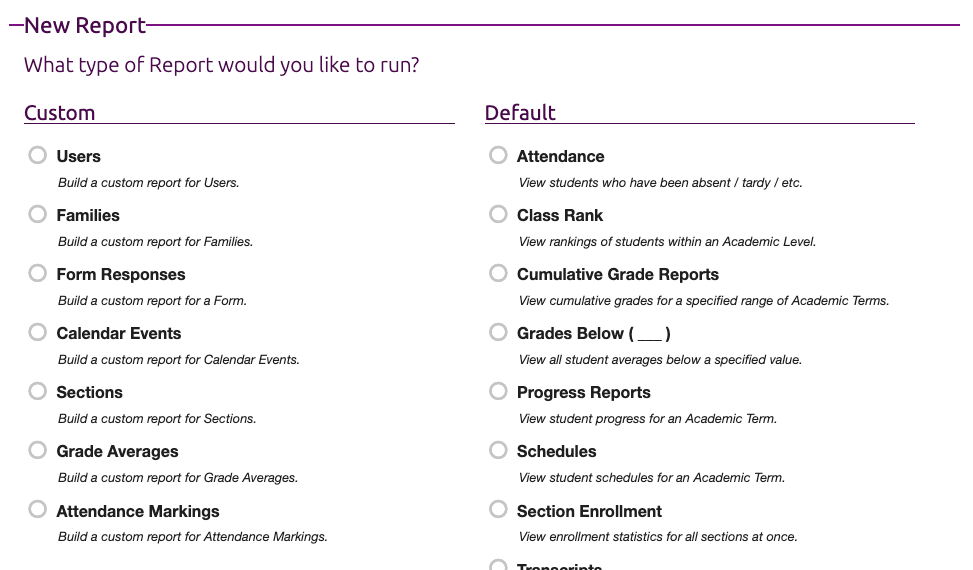 Instructions
Log in to ClassReach as an Administrator.
Navigate to the Reports page.
Click on the green + Report button to open the New Report menu. If you want a description of the report types, you can see them at Custom Report Types or Default Report Types.
For this example, choose the Default Grades Below ( _ ) report and click Next.
The next screen has your customization options. Select an Academic Term then click Next to move on.
Select the format for your report. For this example, select Printable Web Page.
The last screen provides a simple report preview. Enter a Report Name, select the Save and Run option and then click the Save and Run button.
Important Note: The option to output the report as a Printable Web Page will open the report in a new tab. By default, most browsers utilize an ad-blocker which will prevent website pop-ups or ads from opening. You can disable the ad-block for ClassReach (often in your browsers web address bar) in your browser settings.
A separate tab should open that has a list of Students with their Academic Level, Section, Teacher and Grade. If any student's average is below the defined grade line, the grade will be highlighted in red.