This article will describe how to view, edit and print invoices which have already been created for your customer accounts (both posted and not posted).
Important Note: To access your school's Financial Suite, you must be either be designated a Super Admin or have been granted "View and Edit" permissions for Financial Permissions. If neither of these apply to you, you must contact someone in your school with Super Admin privileges.
One important aspect which applies to all pages of the financial suite is the School Year drop-down in the upper right of every page. Be sure to select the appropriate school year when viewing or editing any information on that page!


Invoices can be found in two places:
On the Financial > Summary > Customer Page; here, the invoices are organized by what Account they are associated with.

On the Financial > Summary > Invoices page; here, the invoices are organized by paid and unpaid.

Viewing Invoices for a customer
In either location shown above, click on the invoice you'd like to view and the line will expand to display the full invoice: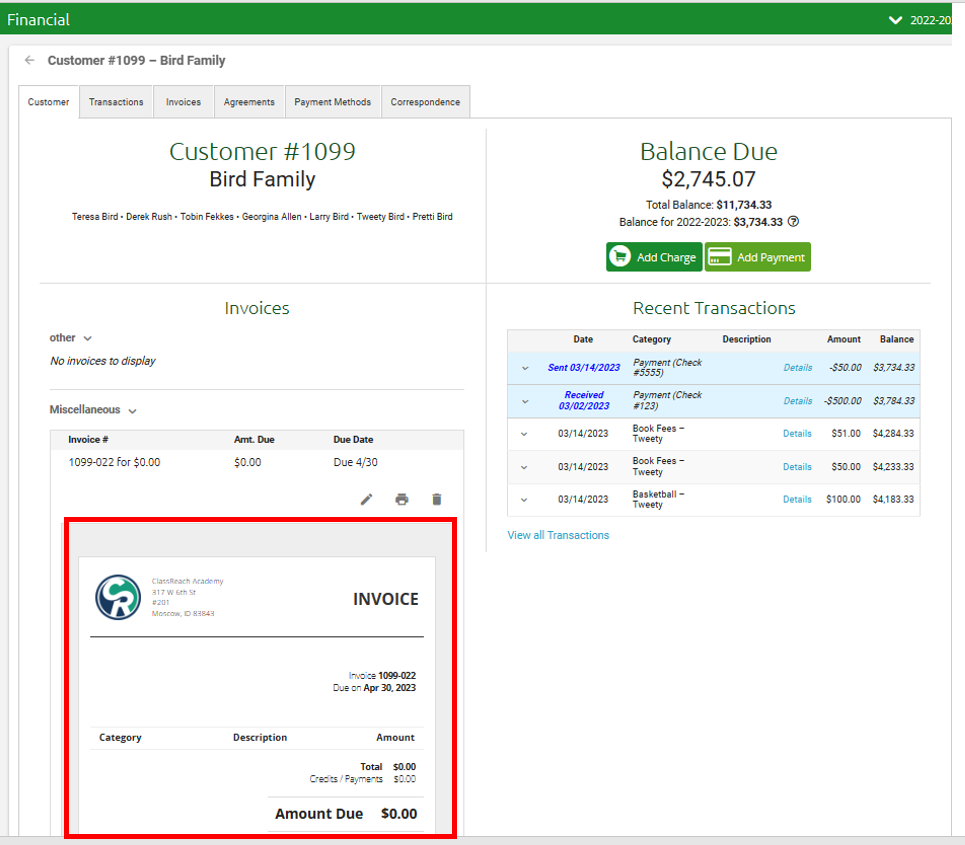 Editing Invoices that have not yet posted
(meaning the invoice has not been scheduled for payment, which generally happens about 10 days prior to the due date)
Click on the Edit (pencil) icon above the Invoice:

This allows you to edit the Due Date; Click Save when finished;

Editing Invoices that have been posted (scheduled for payment)
Editing the Due Date for a posted invoice may cause the invoice to become unposted.
Trying to add a charge to an invoice?
Trying to add Payments to an invoice?