Course Options are a great way to organize your courses and designate them as particular types, for example, AP, Electives, multi-campus situations, etc.
Within ClassReach you can set different Course Options. This is a permissions-based task, if you do not see options and/or buttons mentioned in this documentation then you may need to contact an administrator for you account to ensure proper permissions are given.
Course Option settings are found in the Settings page, under Course Settings.


To Create a New Course Group
Click the +Option Group button.

Fill out the relevant fields:

Group Name: This will be the name of the group. For example: Course Type, Subject Area, etc.
Minimum and Maximum: These will determine how many of the options can be selected. For example: if it is mandatory that the course has one of the options and only one, set these both to 1.
+Option: Use this button to add options. For example: Required, Elective, Study Hall, etc.
Trash can icon: Click these to delete unwanted options.

Click Save once all fields are filled out and all desired options are added.
To Edit Current Course Options
Select the group you would like to edit.
Click Edit in the expanded section.

Click Save once all fields are filled out and all desired options are added.
Related Documentation
Creating / Editing GPA Scales
Course Options you create will show in the GPA Calculations settings which will allow you to set GPA scales for each Course Option as desired.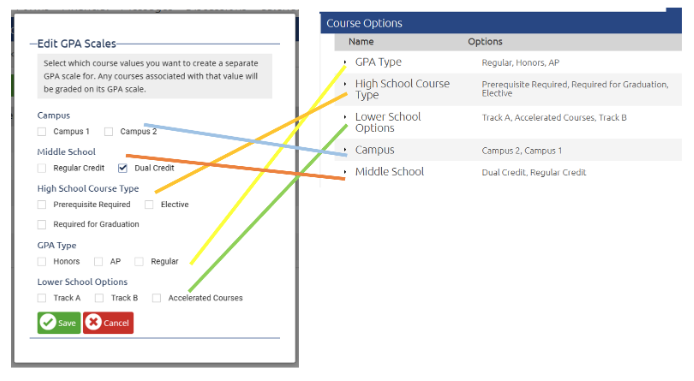 Courses Overview
Course Options you create will create filter options on the left-navigation bar on the Courses page.