With the Data Copier tool you have the ability to copy an entire set of items to different years, terms or sections.
The Data Copier is a very powerful tool that is essential to quickly and smoothly transition to the next school year or Academic Term.
Teachers access the Data Copier via the left sidebar menu.
The Data Copier is available for both admins and teachers, and teachers can copy the following data/settings:

Lesson Plans will copy the selected lesson plans and the associated tasks and daily agendas that you have under that lesson plan.
Homework will copy selected Homework found under the Homework tab
Grades will copy graded items (Grades), This does NOT include Homework (data copied separately) or the actual points/letter grade a student receives for an assignment.
Handouts will copy selected Handouts found under the Handouts tab.
Task and Agenda Items will only copy the tasks and agendas that you enter on the Section's Overview tab. These are not those associated with Lesson Plans.
Caution - we recommend copying Lesson Plans in small batches throughout the school year (a week or two, maybe a month) because school days can be cancelled, holidays vary from year to year, etc. This causes a potential train wreck with lesson plans. You can Data Copy weekly or as often as you desire throughout the year.
BEST PRACTICE: Data copy one item first to check and make sure it copies as desired. You may delete or edit the new item if something isn't right and then go on to copy on a larger scale.
How to Data Copy
Regardless of what you choose to copy, there are some basic steps that every copy follows:
1. Select an item to copy. You will see the following options



2. The From/To Step (you're copying data from where to where?


3. Make Selections of what you specifically want to copy (this could take a few seconds if it's a long list)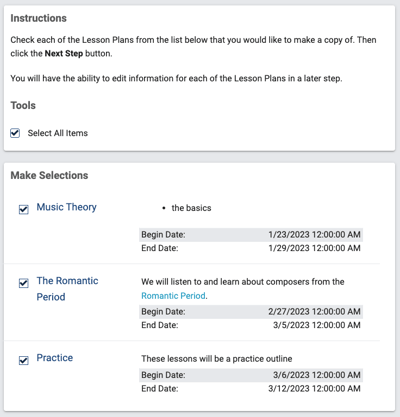 4. Preview, Edit, Save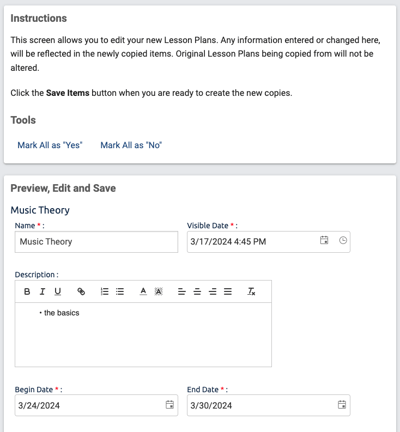 5. Click "Save Item" will complete the Data Copy requested action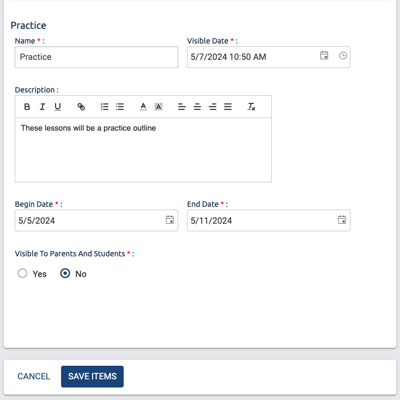 6.
Data Copy Complete
with two options
click a link to view your newly created items
Copy More Items